Schermerhorn Symphony Center Information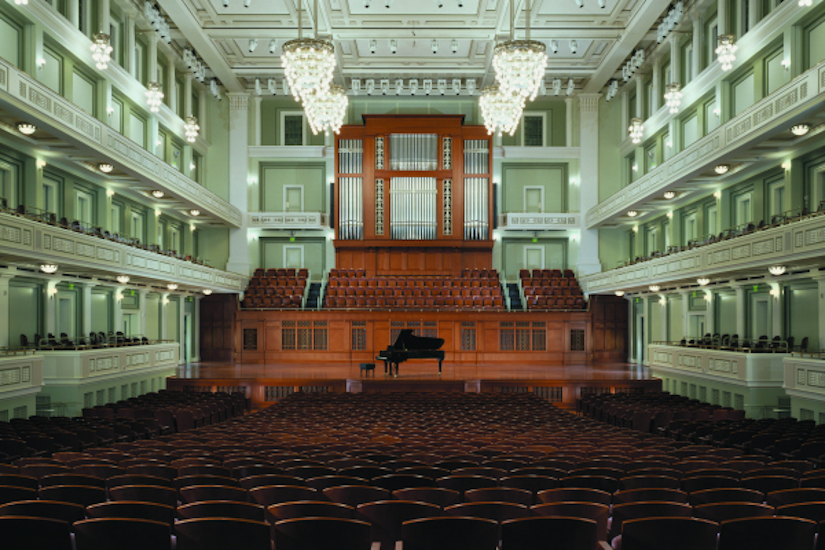 The story behind the Schermerhorn Symphony Center begins in December of 2003 when ground was broken for the construction of that landmark concert hall. Construction lasted for nearly three years, when it finally opened on September 9, 2006, with their first gala concert conducted by Leonard Slatkin. The center was named in honor of Kenneth Schermerhorn, who was the music director and conductor of the Nashville Symphony for over 20 years from 1983 to his death in 2005. The city, state, and Symphony organization had such love for their maestro, that plans were set for the new center's name before his death.
Even early in the Center's life, this downtown Nashville concert hall gained attention for acoustical excellence and its distinctive Neo-Classical architecture that marked the start of the latest chapter in the Nashville Symphony's history. After Schermerhorn's death, the Symphony searched for a new music director to succeed him, during which Leonard Slatkin assumed the role of Music Advisor. His guidance pushed the orchestra to earn three Grammy awards for their recording of Joan Tower's Made in America in 2007 as well as producing the internationally syndicated radio program, American Encores.
In 2008, Giancarlo Guerrero became the Symphony's latest Music Director, where it enjoyed a meteoric rise to success with a busy schedule of recordings, commissions, and world grand premieres. The Orchestra's recordings have received a total of 13 Grammy Awards out of 24 nominations, a simply incredible amount. It seemed as if the Schermerhorn Symphony Center was set and on its way to legendary status.
But troubles came for the Schermerhorn Symphony Center on May 2010, when a period of heavy flooding caused about $40 million in damages to the center. The lower reaches of the building were filled with 24 feet of water and faced several terrible losses including electrical and mechanical equipment, a kitchen, countless instruments including two Steinway & Sons pianos and units of the Schoenstein pipe organ. After the flooding, repairs began immediately and was ready to reopen less than eight months later where it opened with a concert featuring Itzhak Perlman in late December 31, 2010. The organ was later restored just in time for a May 2011 concert by organist Cameron Carpenter.
After this return to form, it looked like the Schermerhorn Symphony Center was in the clear until June 6, 2013, when it was reported that Bank of America issued a formal notice of foreclosure against the Nashville Symphony Orchestra that reportedly owed $82.3 million on the building after suffering an $11.7 million loss in 2012. An auction was scheduled for June 28 of that same year, but a deal was struck with equity provided by Martha Ingram that reduced the organization's debt to only $20 million, prompting the auction's cancellation.
Ever since that moment, The Nashville Symphony and the Schermerhorn Symphony Center has inspired, entertained, and educated audiences from around the world while following their four-point mission.
To achieve recognized excellence in orchestral performance

To deliver consistently creative and innovative programming with a focus on creating, promoting, and preserving the American repertoire

To produce outstanding enrichment programs through music education and community engagement

Create, enable, and lead to cultural impact.
They accomplish these goals by offering classical and educational program as well as a variety of performances from many musical genres including pop, rock, jazz, country, and family-friendly concerts. The Schermerhorn Symphony Center is now the in-demand venue for several famous artists who have performed with the Nashville Symphony.
See the below pages for further information on the Schermerhorn Symphony Center:
Schermerhorn Symphony Center Parking:
Read about parking options and rules at the Schermerhorn Symphony Center.
Ticket Policies:
Read about the industry leading ticket guarantee and ticket authenticity policies when purchasing from tickets via this website.
Schermerhorn Symphony Center Seating Chart:
View the Schermerhorn Symphony Center seating chart and read information on the various seating options.